The Special Engineering Bureau with a Pilot Plant (SEB PP)

KARPUSHIN
Mykola Olexandrovych
Director
of the special engineering bureau with pilot plant
of the V.I. Vernadsky IGIC NAS Ukraine

phone: 424-80-80
e-mail: karpushin@ionc.kiev.ua



The pilot plant of the Institute of General & Inorganic Chemistry of the Ukrainian NAS was established in 1972; the organizer and first director of it was Doctor of Technical Sciences V.I. Stetsenko. On the basis of several departments of the pilot plant, a special engineering department with pilot production (SED with PP) was set up. Since 1994 N.A. Karpushin heads it.

The main directions of the activities
scaling of technological processes to a commercial level and updating them, along the priority lines of research done at the Institute, on the basis of research works that are being carried out at the Institute;
making pilot lots of articles and new materials on the basis of scientific developments of the Institute;
design and making unconventional equipment for carrying out research works at the research departments of the Institute;
design and making unconventional equipment for the commercialization of new technological processes and scientific investigations under the Institute's orders.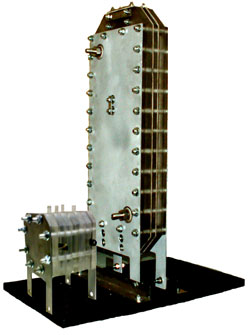 Experimental products and the technologies developed in collaboration with the Institute are used at Ukrainian and foreign enterprises owing to the unique properties of materials and articles and to the fundamental novelty of the technological processes. They include the following developments performed during the past two years: dielectric substrates for microwave devices, resonators for various purposes, PTCK ceramic heating elements for household and industrial equipment, production of high-purity titanium (IV) dioxide, titanium-manganese oxide anodes for cathodic protection systems for underground pipelines, high-purity zirconium and aluminium oxides, production of sorbents: zirconium phosphate with a static exchange capacity for Na (at pH 7) of over 2.6 g.eq./kg, refinement of a technology and manufacture of lots of heat carrier (use at down to minus 37 0C), tested elements of technology for complex processing of red mud from alumina refineries, etc.

On the basis of scientific developments performed by the Institute's departments, the following devices have been designed, made and introduced at Ukrainian enterprises:
electrolysers with a fluidised beds of glass, current-conducting and ion-conducting particles for recovering precious metals from spent electrolytes and nonferrous metals from electroplating plant wastes;
equipment for recovering diamonds from used drilling tools;
equipment for the manufacture of sodium amalgam;
equipment for making spherical sodium amalgam particles of predetermined size;
electrolysers for the extraction of lead from ores;
equipment for the electrochemical radiological decontamination of "contaminated" parts of basic equipment;
equipment for the electrolytic water desalination.
The set-up for refining the technology for the extraction of copper and cobalt from ores has been designed and produced.